Full-text version (where you can make purchases) is here. Please, click here.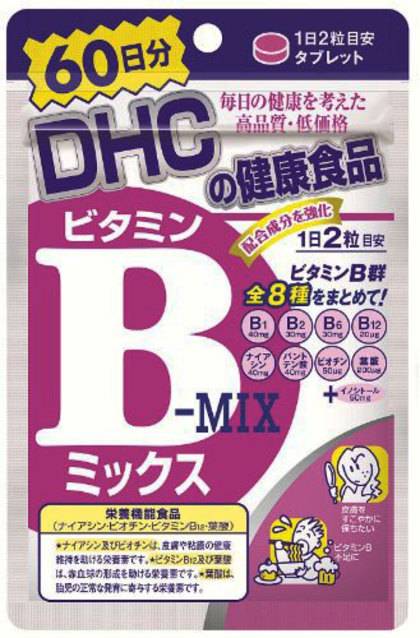 DHC Vitamin B Mix 120 tablets
This product contains all eight types of vitamin B for your beauty and health!
Vitamin B group complex is essential for saccharide and protein metabolism as it performs the role of co-enzymes which support the enzymes necessary to maintain this function. Exactly because group B vitamins are critical for turning lipids and saccharides into energy effectively, this product gained popularity among those who want to control excess weight. For the same reason, vitamin B group is considered effective to treat fatigue. Besides, B group vitamins also add to the resilience and freshness of your skin which makes this product efficient for supporting your beauty as well. "DHC Vitamin B Mix" contains such components as vitamin B1, B2, B6, B12, niacin, pantothenic acid, biotin, folic acid and also adds inositol to complement these.
Nutritional functions of group B vitamins:
Niacin and biotin are the nutrients important for maintaining a healthy condition of our skin and mucous membranes.
Vitamin B12 and folic acid are needed to form erythrocytes.
Folic acid contributes to the normal development of a fetus. (Please do not exceed the recommended dosage.)
Ingredients:
inositol, pantothenic acid Ca, vitamin B1, niacin, vitamin B6, vitamin B2, folic acid, biotin, vitamin B12 [regulators] starch, cellulose, fatty acid ester of glycerin, shellac
Suggested Use:
Take 2 capsules daily with cold or lukewarm water.
Contents:
120 capsules
Manufacturer:
DHC Co., Ltd. (Japan)
Nutrition Facts per 2 capsules:

Calories (kcal)
Protein (g)
Total Fat (g)
Total Carbohydrate (g)
11
0.49
0.86
0.28
Sodium (mg)
Sugars (g)
Dietary Fiber (g)
Other
0.02-3
-
-

40 mg of niacin,
folic acid 200 μg,
biotin 50 μg,
vitamin B12 20 μg,
pantothenic acid 40 mg,
vitamin B1 40 mg,
vitamin B2 30 mg,
vitamin B6 30 mg,
inositol 50 mg
Full-text version (where you can make purchases) is here. Please, click here.