Full-text version (where you can make purchases) is here. Please, click here.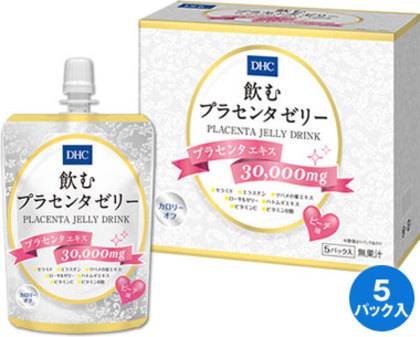 DHC Placenta jelly 70g x 5 sachets
Add more suppleness, elasticity and radiance to your skin with this new 30,000mg lavish placenta jelly drink from DHC!
This jelly-type placenta drink will supplement high-quality placenta to support your beauty and slow down the aging process. Every sachet adds 30,000mg of placenta complemented with five potent beauty components: royal jelly peptide, ceramide, elastine peptide, adlay (Coix lacryma-jobi var. ma-yuen), swallow's nest plant extract powder and a vitamin complex. Having a lovely peach flavor, it is even more pleasant when chilled.
Placenta is an organ that nourishes the new life in mammals. It is a peculiar historic fact that Cleopatra, queen of Egypt, princess Yang Kuei Fei and other royalties used placenta habitually. In ancient China placenta was considered a precious medicine giving perennial youth and long life. Placenta contains a great variety of precious nutrients: amino-acids, fatty acids, useful saccharides, vitamins, minerals, enzymes, EGF/FGF and other growth factors which explains why it is so often a component in supplements, medicines and cosmetics.
Non-destructive manufacturing method and excellent taste qualities.
Because placenta is a very delicate substance, if heat is applied to it, it's bio-active useful components will degrade. To make this product we use «freeze enzyme extraction» method which allows us to extract the active ingredients without damaging them. To make this product easier to take, we removed the taste characteristic to placenta and added a delicious peach flavor.
Take one sachet a day.
Even better when chilled in the refrigerator.
One sachet contains 13 kcal.
Contains no coloring agents or additives.
Suggested Use:
Take 1 sachet daily.
Contents:
5 sachet (70 gram each)
Manufacturer:
DHC Co., Ltd. (Japan)
Nutrition Facts per 1 sachet (70 g):

Calories (kcal)
Protein (g)
Total Fat (g)
Total Carbohydrate (g)
13
-
-
-
Sodium (mg)
Sugars (g)
Dietary Fiber (g)
Other
-
-
-

placenta concentrated extract 950 mg (equal to 30,000 mg of raw placenta extract),
royal jelly peptide 200 mg (equal to 700 mg of raw royal jelly),
dove wheat extract 200 mg,
elastin peptide 90 mg,
"swallow nest plant" extract 30mg,
ceramide 600 μg,
vitamin B2 2.5 mg,
vitamin B6 5 mg,
vitamin B12 2.5 μg,
vitamins C 100mg

[main raw materials:] placenta extract concentration (domestic SPF pig origin), processed royal jelly, dove wheat extract, elastin peptide (fish origin), corn extract (ceramide component), "swallow nest" extract, vitamin C, vitamin B6, vitamin B2, vitamin B12 [regulators] fructose grape carbohydrate solution sugar, acidulant, fragrance, gelling agent, sweetener (acesulfame K, sucralose, neotheme)
Full-text version (where you can make purchases) is here. Please, click here.