Full-text version (where you can make purchases) is here. Please, click here.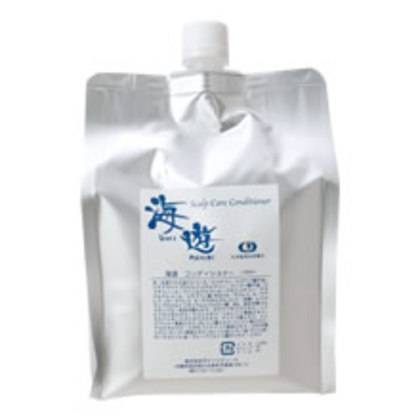 UmiAshibi Hair Conditioner (1000ml)
This scalp-care conditioner was created specially with purpose to meet the wishes put up by the customers, such as:
I don't have much confidence in the vitality and gloss of my hair.
I would like to have beautiful hair
I would like to get an aroma healing while using a shampoo
Main functional ingredients:
Mango seed oil - Prevents moisture from evaporating.
Hyalobel (adhesive hyaluronic acid) - with an absorbing ability 5 times of usual hyaluronic acid, it reliably adheres to the hair and helps retain the moisture.
Okinawa mozuku brown seaweed extract rich in fucoidan.
| | |
| --- | --- |
| Usage: | After using shampoo, take the sufficient amount of the conditioner and spread uniformly along the full length of your hair. Wash off the conditioner after 2-3 minutes. |
| Ingredients: | water, behenyl alcohol, jintan seed oil aliphatic acid ethyl, cyclomethicone, sterine acid glyceryl, beeswax, stearamid propyldimetylamin, mango seed oil, amodymethycon, lactic acid, dymeticon, polyquotanium-10, DPG, hydroxipropiltolymonium hyaluronic acid, BG, hydrolyzed wheat protein, hydrolyzed silk, okinawa mozuku algae extract (fucoidan), hamamelis extract, turmeric extract, balsam apple fruit extract, orthochiffon stamineus extract, shell ginger leaf extract, shekwasa fruit peel extract, star fruit leaf extract, carrot root extract, acerola extract, hibiscus flower extract, passion fruit peel extract, artemisia leaf extract, mango fruit extract, orange, lemon, lime, roman chamomile oil, bittern |
| Contents: | 1000ml |
| Manufacturer: | Point Pyuru Co., Ltd. (Okinawa, Japan) |
Full-text version (where you can make purchases) is here. Please, click here.