Full-text version (where you can make purchases) is here. Please, click here.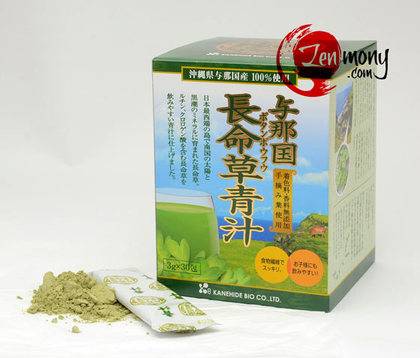 Yonaguni Botanboufu Aojiru Chomeisou longevity herb
Botanboufu is a herb growing naturally on Yonaguni island. This herb grows on precipitous cliffs that are constantly hit by waves and winds. It grows vigorously under the strong southern sun. It was given its local name Botanboufu, which means longevity herb, for its great vitality and survival ability. Precisely because it is a wild herb with a great life force, it contains more nutritional elements than any vegetable. For the people of Yonaguni it has become an indispensable ingredient for many local dishes. What has been supporting Yonaguni people's health is botanboufu aojiru. Also it has been proven by local Okinawa research institutes that it contains a plentiful amount of polyphenols.

Buckwheat is known for being abundant in rutin but lately it was discovered that tartary buckwheat contains 2 times as much rutin as Japanese buckwheat. And boutanboufu aojiru contains 1.5 times as much rutin as tartary buckwheat does!
Chlorogenic acid is another type of polyphenol. It is a component of coffee aroma and is known for its strong antioxidant properties. It was found that Yonaguni Botanboufu contains 4 times as much chlorogenic acid as coffee does.
Chomeisou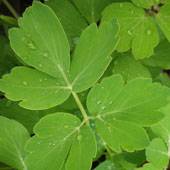 Chomeisou (Botanboufu) is a member of the Apiaceae family and grows wild on Yonaguni Island, the southernmost island in Japan. The plant grows on the wave battered, sun drenched, salt air smothered cliffs of the island. The hardiness of the plant to survive such a harsh environment is astounding and it has long been a favorite of people as longevity food.
Dosage:
Take 1 package a day by dissolving its contents in a glass of water or milk.
Components:
Chomeisou (botanboufu) powder
Contents:
90g (3g x 30packages)
Manufacturer:
Kanehide Bio Co., Ltd. (Okinawa, Japan)
Supplement facts (per 3g)

Calories (kcal)
Protein (g)
Total Fat (g)
Total Carbohydrate (g)
7.9
0.4
0.1
0.6
Sodium (mg)
Sugars (g)
Dietary Fiber (g)
Other
19.5
-
1.4

Potassium 102mg
Calcium 84mg
Magnesium 6.3mg
Vitamin A 24.9μg

Polyphenols (all) 41.4mg

Chlorogenic acid 9.3mg

Rutin 1.3mg

Caffeine

not detected
Full-text version (where you can make purchases) is here. Please, click here.