Slimy, Gooey Foods Are Good for Our Bodies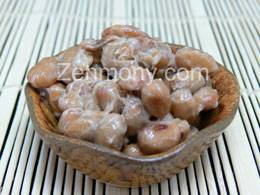 In Japan everybody knows that sticky and slimy foods are good for our bodies. Examples of such foods are seaweeds (such as wakame, mekabu and mozuku), natto (fermented beans), okra, mulukhiya, lotus root, taro, yam, nameko mushroom, and eel. While fucoidan is what makes the seaweeds slimy, a substance called mucin defines the slimy and sticky characteristics of the rest of the above-mentioned foods. Since mucin is a complex of sugars and proteins (amino acid polymers) it has viscous properties. Mucin is also in the secretions of mucous membranes of the human body (digestive tract, etc.) and ingested mucin acts to protect the surface of the mucous membranes, making it difficult to acquire infections. As described above, mucin is contained in natto, but the silmy nature of natto is also due to the polyglutamic acid component. Glutamic acid is an amino acid, and polyglutamic acid is an amino acid polymer (chemically bonded). The polyglutamic acid in natto is comprised of long strings of glutamates connected in a 50,000 long chain rows. The sticky part of natto is an entanglement of the ends of the polyglutamate strings with bunches of the carbohydrate called fractan. For natto, the substance called mucin is the bonding of polyglutamic acids to fractan. The mucin in other foods contains different sugar chains.
Please have a look at our fucoidan products.