Sauza

Sauza ("Southern Wind") makes generous use of natural ingredients born in the bosom of Okinawa nature.
With a gentle touch and natural ingredients your skin will be full of vigor.
What is good for our diet must also be beneficial to our skin. This series of products was born from this simple concept. If you have confidence in your skin your mind will surely be free end easy as well.
Sauza products will not only give your skin here-and-now relief but also deliver a long-lasting core effect. Let Sauza products help you blossom as a flower under the southern sun.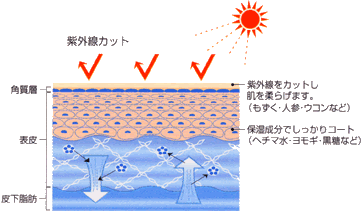 With synergistic effect comes agreement. The balance of ingredients is our winning move. Sponge gourd extract and mozuku fukoidan will add a moisturizing effect. Mozuku seaweed in combination with carrot and turmeric extract will soften the skin and protect against UV-rays, while sponge gourd, artemisia, and brown sugar will provide the skin with a careful coating with moisturizing elements.
Description