Chondroitin & Glucosamine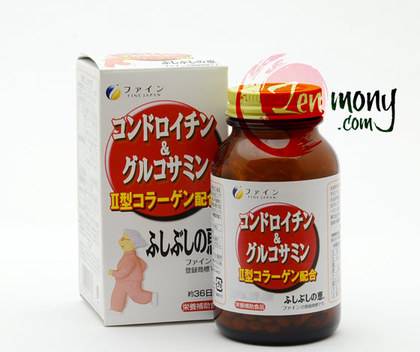 Glucosamine is found in cartilage, connecting tissue, and the eyes. It has high moisture content and protects the body, helping to maintain a youthful appearance. It has been reported that 50% of people over 60 suffer from osteoarthritis of the knees. This product, by supplying glucosamine and chondroitin, may be expected to help prevent osteoarthritis of the knees. This product contains shark chondroitin, glucosamine derived from crab, roast kelp powder rich in minerals, soybean isoflavone which helps to maintain bone strength. Also, it contains Vitamin B complex and Vitamin C, which act in synergy. Recommended for middle-aged and older people and for prevention of the skin aging.
Ingredients:
Ingredient containing Shark Chondroitin, Roast Kelp Powder, Soy Isoflavone (non-GM), Chicken Cartilage Extract containing Ⅱtype Collagen, Glucosamine (derived from crab and shrimp), Vitamin C, Sucrose Fatty Acid Ester, Vitamin B1, Vitamin B2, Vitamin B6
Suggested Use:
Take 15-30 tablets separately at 2-3 times in a day with cold or lukewarm water.
Contents:
82g. (150mg x 545 tablets)
JAN:
4976652001879
Manufacturer:
Fine Co., Ltd. (Japan)
Supplement Facts per 15 capsules (2.25g):

Calories (kcal)
Protein (g)
Total Fat (g)
Total Carbohydrate (g)
8.73
0.47
0.07
1.54
Sodium (mg)
Sugars (g)
Dietary Fiber (g)
Other:
20.4
-
-

Ingredient containing Shark Chondroitin 1100mg
Glucosamine 1000mg
Ⅱtype collagen 540mg

Potentially allergic components:

| Milk | Wheat | Buckwheat | Egg | Peanut | Shrimp | Crab |
| --- | --- | --- | --- | --- | --- | --- |
| - | - | - | - | - | * | * |

* What's Labeled allergic Ingredients?

The 7 "Allergic substances" shown above are obligated to be labeled as such under the Food Sanitation Law, in Japan.