Lycopene melon sole sheets
J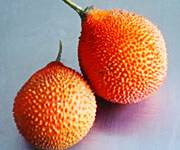 ust stick these sheets on your foot soles and feel refreshed the very next morning! These sheets can also be used on your lower back and shoulders.
Lycopene melon sole sheets features:
This product contains lycopene extracted from "lycopene melon" also known as "ghack" which is known to contain lycopene 70 times that of tomatoes. Besides, this plant also contains ten times more β-carotene than carrot.
"Lycopene melon" plant which is gathered during winter season in such countries as Vietnam, Philippines, Singapore and other is known as a "paradise fruit" for its potency.
"Lycopene melon" for this product is 100% organically cultivated in Vietnam.
Besides "lycopene melon", this product also contains jasper mineral powder, wood vinegar powder, bamboo vinegar powder and dokudami extract.
Now this product contains 10% more "Lycopene melon" extract for the same price.

Ingredients: lycopene melon, jasper mineral powder, dokudami powder、biwa leaf extract、Vitamin C、 wood vinegar powder, bamboo vinegar powder、chitosan、dextrin
Manufacturer: Shingy Co., Ltd. (Japan) (株)シンギー