Goya Sticks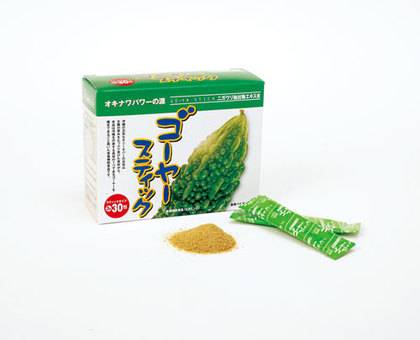 Goya (also called "bitter gourd") is the root of the Okinawan people's vitality. Goya sticks is a supplement made from Okinawa's "summer" vegetable, the goya, using patented technology that uses the entire goya right down to the seeds. The bitter taste of the vegetable has been suppressed making it easy to drink even for children.
| | |
| --- | --- |
| Dosage: | Take 1 stick a day with water or a warm drink. Daily dosage of this product contains 300% of vitamin C standard daily consumption level. |
| Components: | Bitter gourd extract powder, glucose, barley browse, V.C, sweetener (sucralose). |
| Contents: | 90g (3g x 30 packages) |
| Manufacturer: | Kanehide Bio Co., Ltd. (Okinawa, Japan) |
Goya Sticks is a product of Okinawa - a pristine territory thousands of miles away from industrial centers. We present these products with pride and confidence. Okinawa longevity is a well-documented and evidence-based fact.